Well, I'm back.
As I'm sure you'll all be completely unsurprised to hear, I didn't get quite as much done as I'd meant to while I was away. I did make some headway though, and upcoming attractions over the next week or two will include recaps of the last two episodes of
Spartacus: Blood and Sand
, which seems to have been successfully recorded, a review of Vicki Leon's popular history book
How to Mellify a Corpse
and possibly something Star Trek-y...
In the meantime, I thought I'd do a round-up of various Classics-y things that came up while I was away that aren't really substantial enough for a full blog post by themselves. We were staying in a gite in Morbihan, Brittany, and I managed to buy rather too many books and DVDs in both French and English - it's a good thing we went by car. Spoilers follow for J. V. Jones'
The Barbed Coil
,
Holocaust
Part 1 (dir. Marvin J. Chomsky, 1978)
and especially for
The Island
(dir. Micheal Bay, 2005).
The reason I didn't get as much reading done as I'd meant to was
that I spent the whole of the first week of the holiday stuck deep into a 600-page fantasy novel! The novel in question was J. V. Jones'
The Barbed Coil
, which was very enjoyable and made really interesting use of various illuminated manuscript traditions, complete with a name-check for the beautiful
Lindisfarne Gospels
(which I once wrote a rather mediocre essay on while doing a module on Anglo-Saxon archaeology). This is a book that is crying out for an illustrated version! Anyway, there wasn't much that was specifically Classics-y, other than references to illuminated manuscripts throughout history in general and in Egypt more sepcifically, but there was a brief bit of Latin near the end. The book is about a war and features a lot of (rather intimitely described) fights and battles, with a middling-size body count in terms of named characters and an enormous body count in terms of
redshirts
over the course of the story. Towards the end, a new character appears. He is called
Pax
. I won't tell you what happens to him, but I was fairly sure he'd be OK!
The gite we were staying in came complete with a DVD
player and a selection of DVDs, one of which was
The Island
(I also finally got the chance to see
Madagascar
and
Shrek the Third
!). Ewan McGregor and Scarlett Johansson's characters in
The Island
grow up in a very isolated community where they are only given as much education as they absolutely need. In a rather nice use of Latin, Sean Bean's bad guy realises something is not quite right with Ewan's character when he reveals some knowledge of Latin - not the meaning of the word in question (
renovatio
) but how to spell it and that it was used as a boat name. Latin is particularly useful for this. It's often used for boat names, presumably because if you're naming a boat, you want something meaningful but not necessarily too obvious, and putting it into Latin achieves that nicely (though, knowing me, I'd just end up calling a boat the
Dawn Treader
!). Latin is also something that a lot of people know a little of, because a lot of people are interested and it's very much still in use in certain areas (like boat naming) but that you wouldn't necessarily include in a very basic education programme that focussed on the essentials. All in all, it was nice and satisfyingly logical way to incorporate some painfully obvious symbolism (
renovatio
means 'renewal, rebirth') into a fun movie that was more thoughtful than I expected from Michael Bay.
While we were in Brittany, we visited the
Musee de la Resistance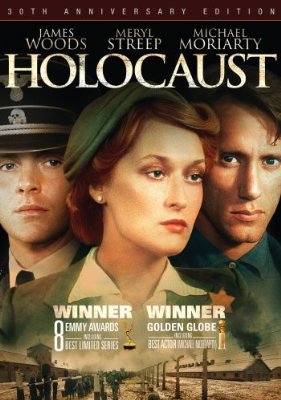 Bretonne
near Malestroit, which is an excellent museum that combines plenty of information (some of which is available in English) with a couple of more interactive, though still tasteful, displays to engage younger visitors. In the souvenir/bookshop, Mum spotted in the 1978 American mini-series
Holocaust
on DVD, which we hadn't seen elsewhere, so we bought it.
Holocaust
, unsurprisingly, is not easy viewing but it is very good and by following a large cast of characters, it is able to cover more aspects of the period than most films. Along with the Jewish Weiss family, the series follows a young SS officer called Dorff and, in the first episode, we see him put on his SS uniform for the first time. His young son hides, crying, and is frightened of him. Dorff then draws attention to the similarity with the famous scene in
The Iliad
in which Hector's baby son cries and is frightened at the sight of his father in his helmet. Actually having Dorff draw this comparison has an interesting effect, in that what is really does is remind the viewer even more strongly that Dorff is no Hector. Not only do we see the child frightened at the unpleasant uniform (with our own adult knwoledge of what the uniform means), we are also reminded of others who have fought with better reason. The aim of the heroes on both sides in
The Iliad
is to acheive honour and glory in open battle (not a nice thing by any means, but rather less secretive), while Hector is a defender rather than an agressor. These marked contrasts with the activities of the SS only serve to make the sight of Dorff in his uniform even more horrifying than it already was. The character, of course, is busy comparing himself to Hector, so the allusion also serves to reinforce his own self-delusion.
Time for me to get back to catching up on housework and e-mails - it's been a while since I've been away for as long as two weeks!
Spartacus
and book reviews to follow as soon as life has returned to some semblence of normality!
The picture at the top of the page is of the Cairn de Barnanez, a dry stone tomb in the shape of a stepped pyramid, with two distinct phases of construction that was in use through to medieval times.